St Albans Area Guide
It's little surprise that St Albans has become such a popular commuter town, sitting only 25 minutes from London amidst the beautiful Hertfordshire countryside, it allows residents to enjoy the best of both worlds.
The history of St Albans goes back to Roman times and gets its name from a soldier called Alban who was beheaded for sheltering a Christian priest, at a time when religious freedom was forbidden on these shores.
St Albans regularly appears close to, or at the top of, 'Best Places to Live' lists thanks to its strong transport links, prestigious schools and expansive property market.
Locals who do not travel into the capital on a regular basis are not left wanting for choice. St Albans has everything you need close to hand, from excellent retail and shopping facilities, to a wide range of bars, restaurants and cafés.
To find out more, read our St Albans area guide and discover why so many people are eager to make it their home.
Properties in St Albans
The historical heritage of St Albans lives on today in much of the architecture around the town, which adds to the array of property styles house hunters and prospective renters have to choose from.
In and around the City centre there's a fantastic selection of Victorian and Edwardian terraces positioned along residential streets such as Bernard Street, Spencer Street and Oswald Road. Elsewhere in the town centre, Georgian facades and period cottages complete the picture, with properties on Fishpool Street, in particular, always proving popular.
New developments in St Albans are always appearing to accommodate the town's growing popularity as a commuter town. An ambitious redevelopment scheme is also in the pipeline, with £60m being invested into modernising the town centre. 100 mixed tenure apartments are set to be constructed across two six-storey buildings replacing the old five-storey police station and NHS clinic.
In and around the main St Albans City train station there are a number of new apartment buildings and there is no shortage of flats available, usually in the one or two bedroom range. Whether newly built or converted from existing houses, there are always options available for anyone looking to buy or rent.
Looking away from the town centre you'll find larger houses with semi and detached properties becoming more prominent. These are mostly compromised of houses built in the 1920s and 30s and often come with spacious gardens and conservatory extensions attached to the rear.
Average Property Prices
Property prices in St Albans vary depending on which district you are looking to buy in, the age of the property and number of bedrooms required. Those looking to start with a one or two bedroom property will be pleased to see average prices sit around £260,000 and just under £400,000 respectively.
At the other end of the scale, a four bedroom home in St Albans has an average price of just over £750,000, while a large 5 bedroom house could cost over £1.3 million.
Looking to sell your property in St Albans? Book a free property valuation with us here.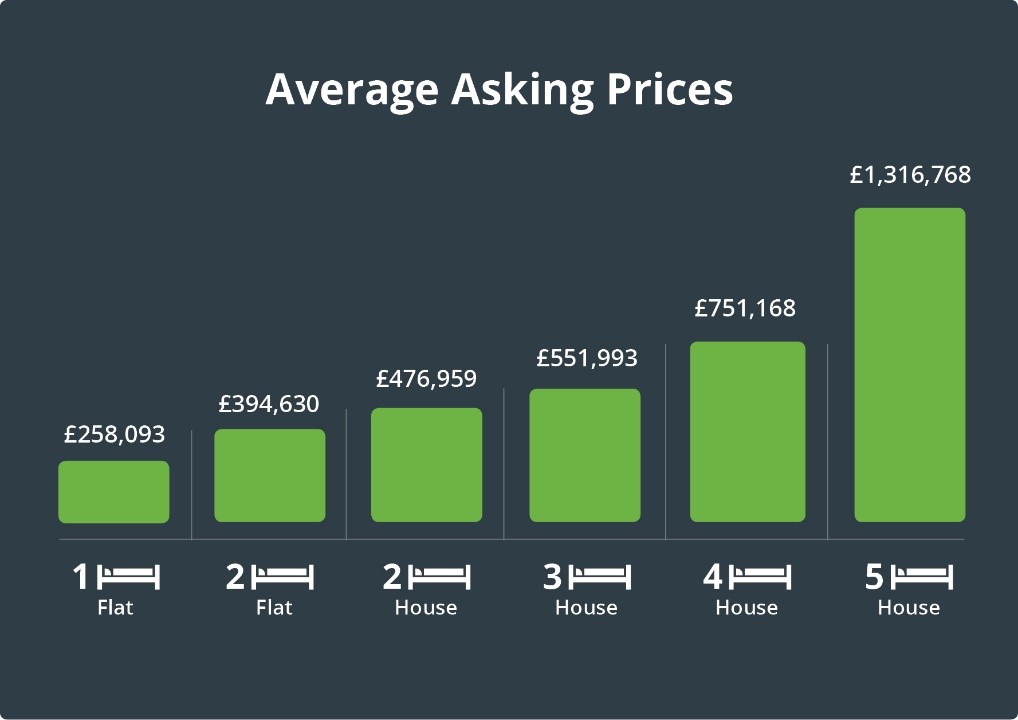 Average Rental Prices
Rental prices in St Albans offer good value for anyone looking to relocate to the town or wanting to set-up their first home. A good example of this can be found in one bedroom flats that average just over £900 pcm, which is significantly cheaper than renting similar in London (which averages at around £1,500 pcm).
Average costs for renting a two bedroom flat or house are quite similar in St Albans, ranging between just over £1,300 pcm and £1,350 pcm respectively. For larger properties you should expect to pay anywhere up to £2,300 pcm for a four bedroom house and up to £2,900 pcm for a five bedroom property.
Looking to let out your property in St Albans? Book a free rental valuation with us here.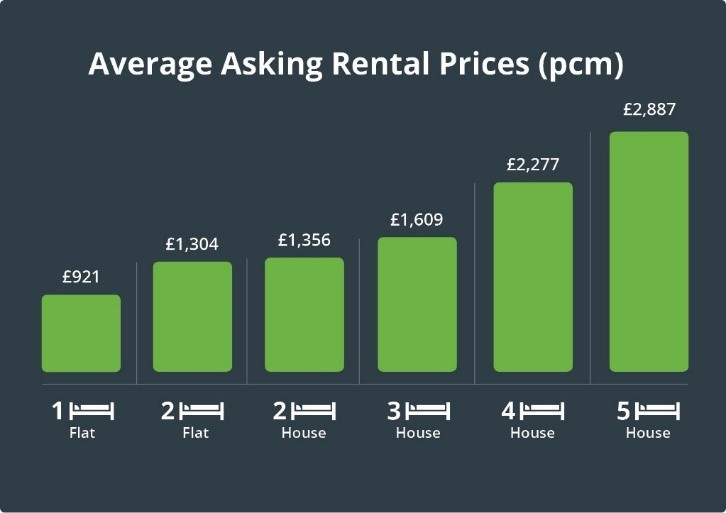 Excellent Transport Links
St Albans was voted the best London commuter town in a 2019 survey and given the number of transport options available to locals, it's easy to see why.
There are two main rail stations in the town, with St Albans City providing direct trains to St Pancras International in only 20 minutes, Farringdon in 25 minutes and London Blackfriars in 30 minutes. Those using St Albans Abbey train station can journey into Watford Junction in as little as 15 minutes.
A strong local bus network keeps people connected between the outskirts and town centre, while also providing routes to Welwyn Garden City, North London, Hatfield, Luton and Watford.
It only takes an hour to travel into London by road, and just 20 minutes to arrive in nearby Luton. Surrounding St Albans is the M1 to the west, the A1(M) to the east and the M25 to the south.
London Luton is the nearest airport, taking only 30 minutes by car or train from St Albans. Gatwick is about 70 minutes away by train, while Stanstead and Heathrow take roughly an hour by road.
Good Schools in St Albans
St Albans is known for the high standard of education in the town and is home to some of the most highly sought after schools in the southeast.
Primaries that have been rated as either good or outstanding by Ofcom include Fleetville, Bernards Heath, Abonyne Lodge and Abbey C of E. Maple school is the most popular primary in the county, with parents always eager to secure a place for their children.
In terms of secondary schools, Beaumont and Sandringham lead the way in St Albans. The former is located nearer to the centre of town, while the latter is further away but no less prestigious. Verulam and STAGS are two single sex secondaries that also receive a high amount of applications.
Click here for a list of all the top schools in St Albans.
Things to do in St Albans
St Albans is known as a market town due to the historic 150 stall Charter Farmer's Market which thrives amongst the historic architecture in the town centre on the second Sunday of each month.
Tourists also flock to see the famous cathedral which dates back to 1077 and is home to Britain's first saint, St Alban. The Verulamium Museum is another popular attraction and recalls almost 2,000 years of history dating back to the Roman times.
Locals can enjoy everything from small boutiques to established retail brands in and around the town, with two shopping centres located just off the main high street. An exciting range of restaurants, bars and eateries are dotted around the same district offering a diverse selection of food and drink. From menus made with dishes using locally sourced ingredients, to international cuisines and exotic cocktails, there's always plenty of choices available on any given evening.
The same applies to local entertainment and the arts scene. The art deco Odyssey Cinema offers a good choice between arthouse and blockbuster fare, while the Abbey Theatre and Sandpit Theatre put on a number of memorable productions each year.
If you want to stretch your legs and enjoy some of the wonderful local greenery, the 100-acre Verulamium Park is always a good pick. Ramblers eager to explore the countryside further can venture into England's largest new native forest, Heartwood Forest, or head to Bricket Wood Common to enjoy the beautiful woodland.
Thinking of moving to St Albans?
If you are looking to rent or buy property in St Albans, Sandridge, London Colney or the surrounding areas, get in touch with our friendly estate agent team who will be happy to help.